Currently, the world of marketing has become unstoppable from evolving. From simple campaign initiatives to the development of different online processes, the marketing landscape and its business are revolutionary and ever-changing. In this article, you'll find the most innovative SaaS marketing tools that will help you scale your business.
Introduction
Years ago, the pandemic altered the globe's status, putting almost everything in a stagnant state. Yet, SaaS' rise to power in the marketing industry conveys otherwise.
SaaS, formally means Software as a Service, is a cloud-based model that disperses data from devices through a web browser and internet connection. In place of software installation and maintenance, anyone can access information and content with the internet, easing the burden from the complexities of hardware management.
Last 2021, Gartner's Emerging Technology Product Leader Survey showed that around 48% of respondents firmly decided that cloud-based software, including SaaS, is part of their top three specializations regarding emerging technology investment. The main reason behind this almost half figure is that SaaS has characteristics that enable you to scale your business. Some of which include:
Easy to Customize – SaaS allows each user to customize apps that best suit their business. They can easily perform this without sacrificing the data and impacting infrastructures. Based on how SaaS assembles its systems, customizing can make your business unique and open for upgrades frequently at lower costs and risks.
Multi-tenant Architecture – every user can operate in a shared infrastructure, distinct environment, and codes that are all centrally controlled and maintained. With this, innovation is faster, and development transpires immediately, saving you time and resources.
Improved Access – SaaS has higher levels of data availability across all networked devices, making it simpler to manage access permissions, keep track of data usage, and verify that all users are viewing the same material simultaneously.
Furthermore, SaaS as a licensing and delivery software makes everything easier for your business since you can opt to allow users to avail online through subscription-based access instead of purchasing and installing on individual computers. Among its many benefits include anywhere-anytime accessibility; scalability; low setup costs; constant and automatic updates; security; and high performance.
Today, these mentioned benefits became more visible because of marketing tools that are within your reach. These platforms and sites amplify your business and help you adapt to the changing needs of every user. Having substantial knowledge of these SaaS tools for digital marketing is an advantageous lead against the others and will help you thrive amidst the number of growing businesses out there.
The Benefits of Marketing Tools
Most marketing tools for SaaS are merely right in front of your eyes. You simply need to search and learn them individually to know what best fits your business goals and initiatives. But before going through these SaaS tools, here are some of their advantages that can help you to pursue them.
1. Lower Costs / Cost-effective
License charges and other costs needed in software installation make it more challenging for you to blossom financially. Small businesses or other growing companies might have a problem along the way since it takes some resources to pull off. Hence, with SaaS tools for digital marketing, you can efficiently lower your cost and go with a subscription-based plan. This SaaS model is known as the pay-as-you-go system. It is a structure that helps you manage your costs and risk at the same time. Remember: total purchase has exposure to more outflow compared to temporary but relevant investments.
2. Free trials
Allowing you as a customer to have a week or month allowance to check whether the software's system or features are what you are looking for makes it more convenient right? That is why marketing SaaS tools' provision of the free trial of their software is a significant baseline for your customer satisfaction. This benefit offers you ample time to decide if the tools are valuable to you or not. Therefore, it minimizes your risks and wasteful investment. Apart from that, it delivers a sense of security that your soon-to-be short or long-term purchase is worth it. On the other hand, SaaS marketing tools with this kind of benefit can gather more people behind them through leads and recommendations that drive more users and profit.
3. Efficiency and more engagements
Through marketing tools, you can gain more engagement as a small, medium, or even an established business. Consumers often prefer engaging with cloud-based tools that provide them with accessibility anytime and anywhere. Since marketing SaaS tools give services that are more affordable, collaboration-friendly, and hassle-free, your business can experience productivity while earning more engagements that can translate to higher revenue levels.
4. Updates continuously
SaaS tools do not settle for less as they continuously update based on the changing needs of their customers. Through these consistent upgrades and positive changes, marketing SaaS tools improve your workflow and creative processes. Most of the time, SaaS marketing tools conduct a weekly or monthly update to cater to the trends you want to hop into, fix problems, address your recommendations, and develop a better feature system.
5. Convenience
The previously mentioned benefits all fall under this advantage as the primary purpose of SaaS marketing tools is to deliver convenience, satisfaction, and a better work journey to all businesses for scalability. Undoubtedly, customers can reap all the advantages of maximizing SaaS marketing tools. The efficiency, affordability, flexibility, and high profitability that these platforms offer are top-notch. Their precedence goes beyond what conventional tools can provide since they can ease your burden as a marketer and businessman in many ways. After all, everyone loves convenience, and that is the top priority of these SaaS tools.
11 Marketing Tools for Your Business
After knowing the benefits of these SaaS tools, here are some of them that you can visit to improve your business' content and materials. There is assurance in exploring these marketing SaaS tools, so do not skip them and finish reading until the end.
1. Creasquare.io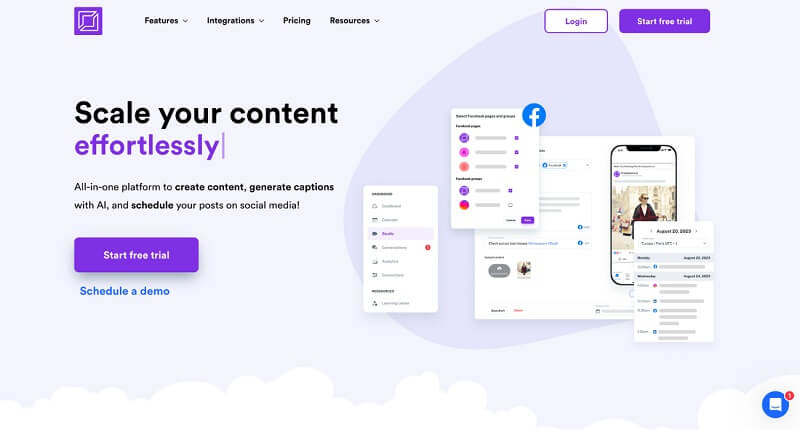 "Scale your content. All in one." That is the motto of Creasquare.com as a SaaS marketing tool. This site was formed out of the idea of providing advantages for creators, marketers, and companies to produce content and manage their social media. Creasquare's purpose is to offer a total creative solution that suits all current and soon-to-be-launched sites and platforms.
Main Functions/Advantages:
AI-powered content production tools
Expert in trends and modern consumers' needs
Community management
Video production
Planning and scheduling content publication in batches or individually with a push of a button
Social media content integration, such as YouTube, Facebook, LinkedIn, TikTok, Instagram logos, and studio website designs
Manage assets through Creasquare's Creative Studio
Accessible customizable templates, animations, free photos, royalty-free clips, and music
Brand Kit creation tools for your company logos, typography, and colors
Generate SEO-driven articles in different languages and tones with the help of Creasquare's AI content writer
All of these benefits are in Creasquare. These are only some of its main functions that you can enjoy once you access and avail it as one of your marketing tools. Here's a quick guide to its pricing for you to manage expectations and budget your resources well.
Pricing:
Basic – Creasquare's basic plan is good for $9.9/month only. In this offer, you can already have the chance to manage five social accounts, limitless scheduling of content, unlimited use of Creasquare's creative studio, and produce 2,000 AI words.
Professional – Creasqure's professional offer allows you to incorporate 10 social accounts, unlimited scheduling of materials, boundless access to its creative studio, and enjoy 5,000 AI words for only $19.9 /month.
Team – For $29.9/month, you and your team can relish Creasquare's fullest potential since it includes 25,000 AI words, limitless utilization of a creative studio, unlimited scheduling, and integration of 20 social accounts.
Creasqure's plans for you are all a win-win investment. With its amazing features and perks, you can scale your business and make the most of your time as a marketer, creative, and business owner. If you are still hesitant, Creasquare prioritizes your convenience. So, you can begin exploring this marketing SaaS tool with a free trial to know if it fits your needs, skills, and goals.
2. Renderforest.com
Renderforest.com champions the idea: "All your creative tools in one location." The primary goal of this SaaS marketing tool is to provide you with access to a broad selection of online editing tools so you can expand your business using high-quality visualization resources, prototypes, comprehensive tutorials, keyframe animation functions, and music.
Main Functions/Advantages:
Credible, as shown by the 30 million works it has completed to date (and counting) annually.
Has a free plan design tool
Simple to utilize features
Has tools for making videos and animation
Assist in producing explainer and promotional videos
Allows you to design and establish websites for your business
Contains broadcast-quality content that is downloadable
Garnered a global user base of more than 10 million
A marketing tool for SaaS that saves your time and resources
Furthermore, Renderforest considers updates to its solutions of great importance to meet the rising demands of its customers. Because of its flexibility of use, variety of tool options, and convenience, it has become one of the ideal marketing tools concerning video designing.
Pricing:
Free – Renderforest's free plan provides you with 500 MB storage, limited access to stock images and clips, generation of logos in PNG format, production of HD720 videos, and the opportunity to utilize thousands of presets and templates.
Lite – For only $9.99/ month, you can enjoy creating unlimited HD720 videos, 10GB storage, and avail of more than 100k stock photos, music, and footage. You can also access Renderforest's exclusive templates, scenes, diverse presets, and mockups. Aside from that, you also can create logos in PNG and vectors in SVG formats. In addition, this Lite offer provides you with 1 premium website for your domain.
Pro – All the Lite benefits mentioned above are part of Renderforest's Pro plan for only $19.99. Yet, you can enjoy a better experience since you have 30GB storage, branding guides for logos, upgraded website controls and tools, more than five million stock assets, and unlimited production of HD1080 videos.
Business – Your $29.99 can provide you with all of the Pro benefits on top of the other upgraded features, which include 50GB storage, limitless creation of videos up to 4K quality, account manager, one exclusive website, team management, reseller license, and diverse branding kits.
3. Kittl.com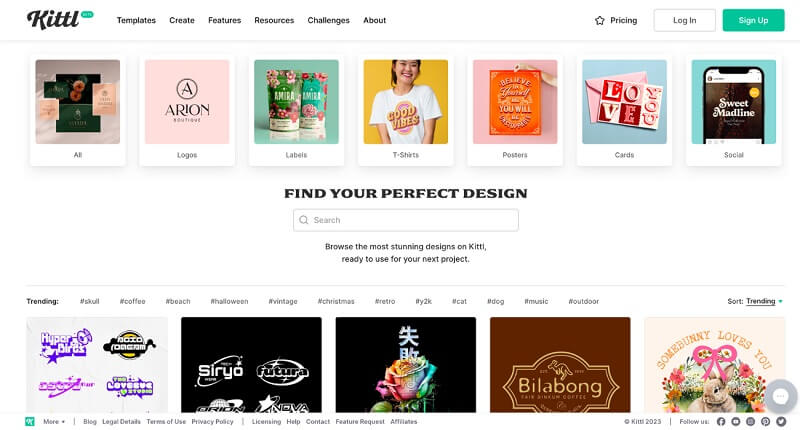 Captivating visuals are a must for social media posts. Marketers and creatives must execute well-made content materials that will catch people's attention. However, crafting designs and implementing your creative vision becomes challenging most of the time, especially when you do not have any tools to use. Yet, with its vast selection of design templates, Kittl offers a remedy for this.
Kittl.com is regarded as a remarkable design tool by many of its users. The sophisticated templates assure that your creations will be of the highest caliber at all times. By selecting a template, you may quickly create graphics by tweaking the visual elements.
Main Functions/Advantages:
Easily produce web banners, cards, social media content, logos, etc.
Tool for team collaboration
Illustration library, free photographs, and thousands of professional-looking templates
Texture cutting and magic recoloring features
Sophisticated font styles
Easy-to-follow interface
No software installation needed
Downloadable outputs in any format
Logo maker, t-shirt design maker, AI image generator and more…
Since Kittl's capacity to produce original and accurate work for businesses is happening in front of everyone's screens, its commitment to empowering you as a marketer or creative is explicit. These advantages from one of the SaaS tools make designing more manageable for you.
Pricing:
Free – Kittl has a free offer where you can generate low-resolution image export, do 100 projects, enjoy a commercial license, and 50MB upload storage.
Pro – For its pro plan, you can enjoy all its features for $10 per month. The package includes upgraded editing tools, endeavor on 100 projects, low-res image export, commercial license, and 50MB upload space.
Expert – Kittl's expert offer is available at $24 per month, where you can unleash all its eye-catching premium template designs, limitless vector exports, 10GB upload space, full commercial license, Kittl AI+ (100 credits/mo), and unlimited project creations.
Business – You can get Kittl's business plan for only $79 per month. This offer is best for teams that want to improve their workflow and design processes. You can share this plan with up to five (5) users in one account, with advanced customer assistance, exclusive branding and team tools, and the inclusion of full expert accounts.
You will become an unstoppable marketer that can scale your business once you unlock Kittl as one of your primary SaaS tools for marketing. So, go check this gem out now.
4. Removal.AI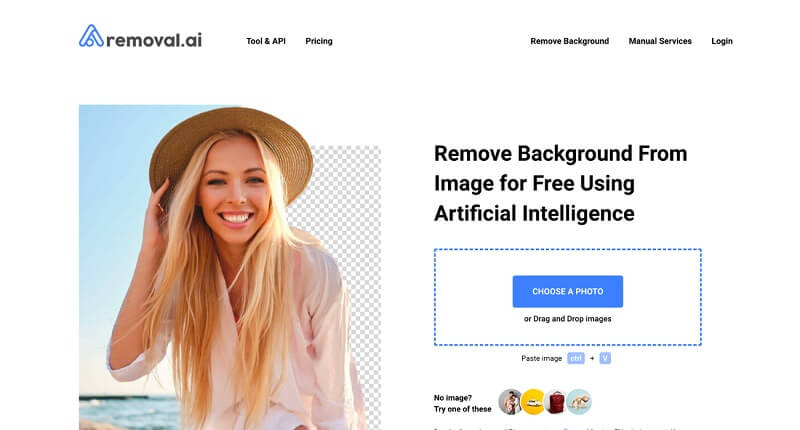 You can never go wrong with Removal.AI if you want to step up your game in visual communications, business, and marketing combined. Removal.AI is a leading service provider and innovative software that improves photographs and other materials. This background removal website has been put up with years of upgrading experience, artificial intelligence technology, and a comprehensive photo editing tool. Removal.ai mastered incorporating data-driven and knowledge-based approaches to offer a superior, original, and relatable design.
Main Functions/Advantages:
100% accurate elimination of photo background
Removes backdrop from photos swirly
Automatic removal of extraneous objects, masking images, and precise subject detection
A Useful tool for designing output, including postcards, postings on social media product catalogs, posters, and presentations
Instant white, transparent, and customizable picture backgrounds
Works are published promptly
Tools for text and effects are available
Reliable, hassle-free, and time-saving
Batch photo editing
Updates regularly
Social media posts and other marketing endeavors frequently include images. That's why you must put so much work into polishing your photos. Hence, some might see it as unimportant. However, removing the background from an image is crucial in creating content, and Removal.Ai deeply understands this point. With this, you can check their website and explore the features that they can give you.
Pricing for full-resolution images:
Free – If you already have an account, you can enjoy one high-resolution download, limitless previews, and 50 previews through API and app for free.
Monthly – If you want to have monthly access, you can pay for it at $0.13 per image or $63.99 for 500 images.
Lifetime – This lifetime access only costs you $8.99 for ten photos or 0.90 per image.
You can stand out with your designs at this reasonable pricing. Removal.Ai, one of the best marketing tools for SaaS, provides many advantages on your plate, especially when you want to focus on photography and editing. Indeed, Removal.AI's built-in features are things that you should not miss.
5. Designstripe.com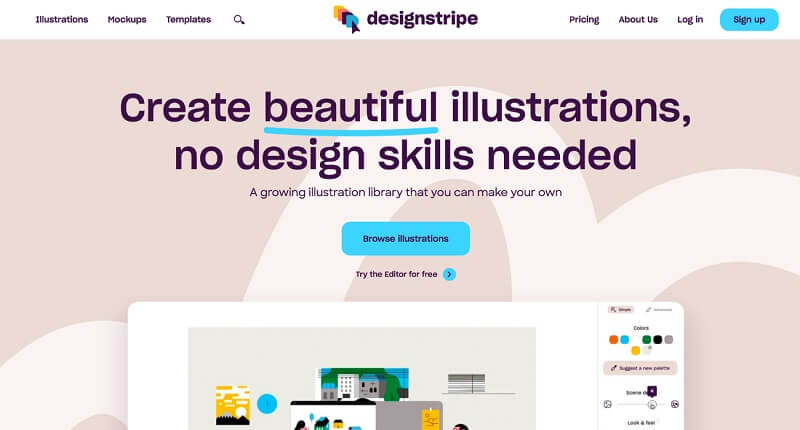 Even if you lack the experience of an experienced designer slash marketer, you can still produce beautiful materials for your business. Among a lot of marketing tools that concentrate on drawings, Designstripe is the one to look out for and utilize for your campaigns.
This app's extensive library of illustrations makes it different and keeps it running. With the support of easy-to-use yet effective editing tools, you can change your game and better your business performance by garnering more engagement.
Moreover, Designstripe always has your side whether you need to produce uncomplicated illustrations or more intricate ones. It has great perks, such as incorporating your brand's color schemes or building a different one from scratch.
Main Functions/Advantages:
Useful for creating brochures, improving photographs, and creating other design-related products.
Create designs and create mockups of them in a matter of seconds.
There are numerous editable templates available for download in PNG and JPG formats.
There's no need to create brand-new designs.
There are vector elements and illustrations available everywhere.
The availability of color schemes that you can use
Modify parts quickly and according to your preferences
Pricing:
Basic: Cheerful and Techno illustration style – this plan is for free where you have one high-res download, unlimited free previews on API, app and Removal.AI.
Pro – Monthly – in this subscription, you can enjoy full access to DesignStripe's illustration styles, limitless usage of all styles, creation and downloading of icons, customization of full scenes, and downloading in PNG, JPG, and SVG formats. This deal is good for only $20 USD /month.
For every marketer who wants to scale their business, DesignStripe offers a wide range of options you should grab now. By using this marketing SaaS tool, you can gather more customers behind you and flourish in this industry.
6. Drawkit.com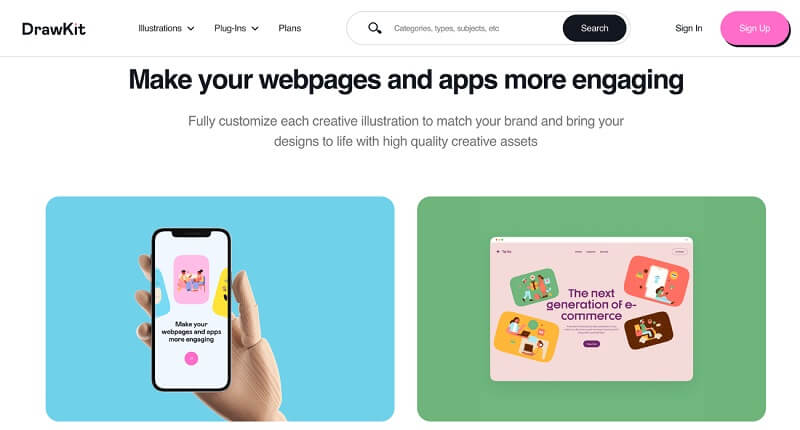 Drawkit.com is one of the trusted marketing tools of esteemed companies worldwide. Its expertise on hand-drawn vector illustrations charms many marketers and creatives, making it an in demand tool in this generation.
If you wish to have your illustrations stand out, Drawkit is an effective instrument. It has amazing collections of 2D drawings, 3D images, icons, animations, and mockups. To add even more creativity to your creations, you can utilize their plugins for a 3D builder or their avatar maker.
Main Functions/Advantages:
Captivating hand-drawn vectors that fit your brand objectives
Free customizable illustrations
Accessible elements, mockups, and animations in 2D and 3D
Has a range of templates according to your topics, including those related to health, education, and other industries.
Assist in creating interactive and compelling websites by converting static ones.
Updated content every week to improve your work.
Pricing:
Basic – This plan is free, which permits you to have unlimited access to Drawkit's basic content and favorite items.
Pro – For $79/year, you have the power to unleash your creativity through Drawkit's free and pro content, your favorite elements, and an advantage to access the platform's fresh and improved tools.
Pro Lifetime – This subscription is like the Pro plan but without time constraints. You can relish in Drawkit's amazing features forever and rack up your business goals.
Building from these positive advantages, Drawkit should top your graphic design tools list and start capturing your audiences' attention. With this platform, you can profoundly verify your reputation as a designer and make yourself an excellent hand-drawn vector-centered artist who manifests versatility and originality.
7. Missinglettr.com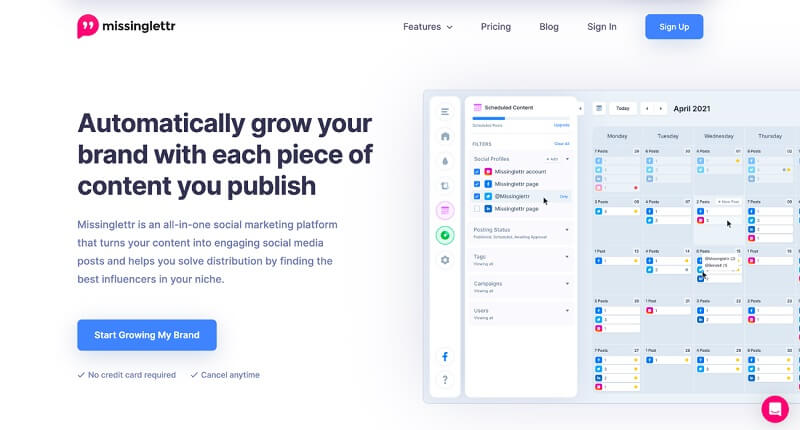 There is an efficient and easy way to grow your brand automatically through the content you publish daily–and that is with Missinglettr.com.
Missinglettr is a one size fits all Saas marketing tool that can transform your content into exceptional posts on social media and supports you in addressing distribution concerns by locating the top influencers in your market. Today, more than 30,000 creators have been using this tool, and they can attest to how Missinglettr can outgrow your competitors, where your publicized content can translate to leads, traffic, and followers.
In fact, Laura Stanik, a well-known brand strategist, expressed her admiration for Missinglettr and said that it is a platform where you can productively generate and schedule your branded content for social media alongside your other duties.
Main Function/Advantages:
Simple, powerful, and intelligent platform where you can do everything that you need for your social media
Allows you to enjoy automated drip Campaigns for your social media, which can help you garner engagement
Curation of content that can save your time from manually organizing social media posts that audiences love
Share content across social media platforms.
Easy to use social media calendar
Collaborate with your team
Availability of metrics and analytics of your campaign results
Access stock image library, brand customization, automated reposting, and customizing URLs
Pricing:
Starter – For $9 per month, you can have one workspace, 50 scheduled postings, and one social profile.
Solo – You can enjoy one workspace, 500 scheduled posts, one additional user, and three social profiles for only $19/month.
Pro – Your $59 per month can let you manage your time well since you have 3,000 scheduled postings allowed, three workspaces, unlimited extra users, ten curated posts monthly, and nine other social profiles.
So, what are you waiting for? Automate all the time-consuming social media management activities you have, increase brand recognition, expand your company, and analyze all your campaign analytics with Missinglettr.
8. Ai-writer.com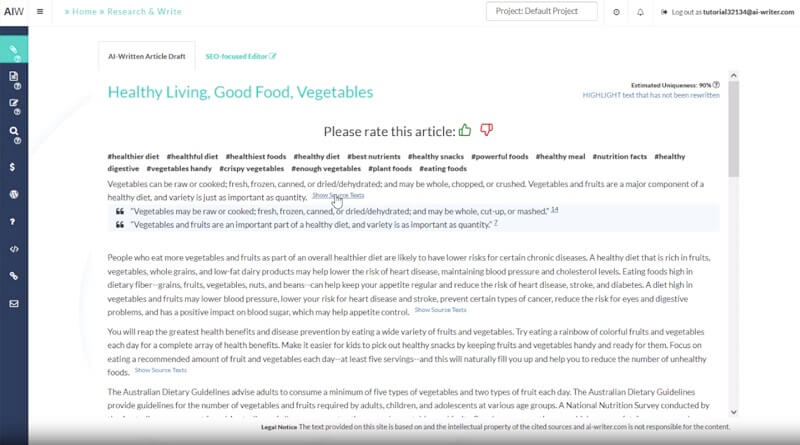 AI-Writer is an AI-powered content creation platform that helps businesses generate high-quality, SEO-friendly copy quickly and efficiently. This innovative tool uses natural language generation technology to craft compelling pieces of content tailored to meet the needs of different users.
Main Function/Advantages:
AI Editor – The AI Editor analyzes your text content in real time to check for any errors or inconsistencies, making sure the final result is always of high quality. It's also capable of suggesting alternative words and phrases to make your content more effective.
Automated Outlining – AI-Writer's automated outlining feature helps you get an overview of your entire writing project before you even start, allowing you to plan out the structure of your content ahead of time.
Natural Language Processing – AI-Writer can generate content that sounds like it was written by a human, making it easier to create engaging and effective copy.
Time-saving Features – With features like automated text summarization and keyword optimization, AI Writer helps you save time when crafting content. It also allows you to easily share your work with others through the platform.
Cost-effective – AI Writer is an affordable option compared to other text writing software, making it a great choice for those on a budget.
Pricing:
Basic Plan costs $29 and offers basic writing assistance with up to 40 documents that can be created. If you're a solopreneur, blogger or startup with one to two blogs in your repertoire, then this is ideal for you.
Standard Plan costs $59 per month and provides access to additional features such as style guides, templates, and AI-assisted rewriting. It also includes 150 document creation and an advanced analytics dashboard. For freelancers writing oodles of content each month.
Power Plan costs $375 and is tailored to larger companies, offering access to a wider range of features. It also includes 1,000 document creations, advanced analytics dashboards, 24/7 customer support and dedicated account management for those with an intense need for new content.
9. Spotlightr.com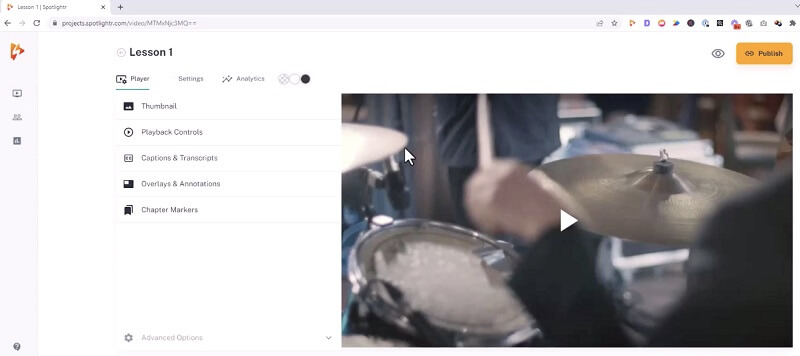 Spotlightr is the secure and flexible video hosting platform that meets all your needs as a course creator, marketer, and budget-conscious business. With advanced encryption protecting your videos from downloads, you can rest assured that your content stays safe and secure. Plus, Spotlightr offers you full control of your branding so you can proudly display your logo, colors, and other content to create an unforgettable experience for customers. What's more, you're never locked into a single hosting solution with Spotlightr: you can store and access your videos wherever you like. Whether it's courses, marketing funnels or budget constraints – Spotlightr gives you the flexibility to get the job done right!
Main Function/Advantages:
Imagine the potential of having an all-in-one platform that enables you to host your video course and market your business seamlessly.
Promote, establish, and protect your videos to ensure a successful reach.
Secure your downloads with advanced HLS encryption, and prevent unauthorized access.
Maximize the reach of your videos, and ensure that you have complete control over who can view them.
Shield your content from illegal copying and distribution with dynamic watermarking technology.
Update your video quickly and effortlessly with one simple click.
Power up your WordPress & LearnDash with direct integration.
Boost conversions and engagement by adding CTAs & other post-completion triggers.
Unlock smarter content insights with analytics to make informed decisions.
Pricing:
Spark – $7/month: Experience the advantages of Spotlightr with up to 25 videos and 50GB bandwidth each month. Utilize HLS encryption for protection from downloads, 4K UHD resolution capabilities, custom domains, and hybrid hosting all at a low monthly rate.
Aurora – $16/month: If you're looking for a reliable video hosting solution, check out this option. You'll get: – Unlimited videos – 200 GB of bandwidth per month – 200 GB of storage – All the features in Spark, plus: – Integrations with major ESPs and CRMs – Password protection – Email gating – Custom start/end times for videos – Custom video galleries with access code protection – The ability to create GIFs from any part of your video – A floating video on scroll option – Domain embed protections.
Polaris – $40/month: Enjoy unlimited videos and 600 GB of bandwidth/mo, audience segmentation with automated reporting, CRM integration, dynamic user & overlay personalization and additional team accounts with access restrictions.
Supernova – $125/month: The Supernova plan is perfect for those who require the highest level of service and flexibility. For just $125/month you get unlimited videos, 2TB bandwidth per month, as well as 2TB storage – all in addition to everything included with the Polaris package!
So no matter what your needs are, Spotlightr has a pricing plan that's perfect for you! Plus, all plans come with our awesome 24/7 customer support.
10. Contentoo.com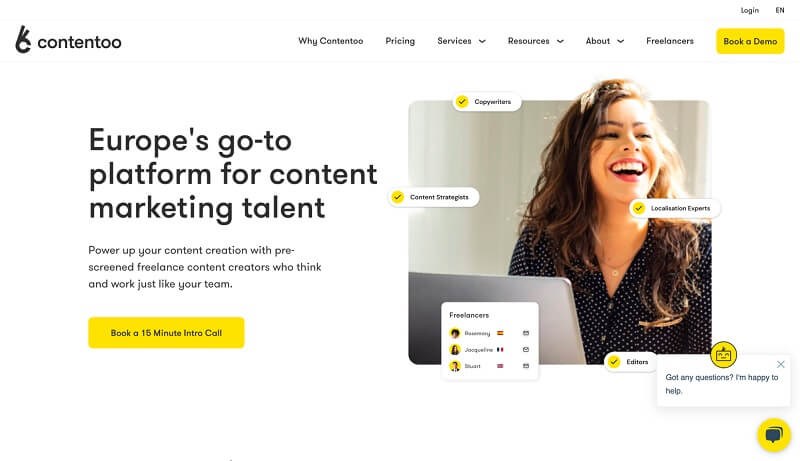 Contentoo is an online platform that enables businesses and organizations to create captivating digital content that resonates with their target audience.
Through Contentoo, users get access to experienced professionals who understand the nuances of crafting compelling stories that align with your brand's message and goals. With their streamlined process, Contentoo helps businesses quickly establish a presence online while ensuring deadlines are met. Moreover, they provide SEO optimization advice specific to each piece of content, maximizing its exposure when published.
Main Function/Advantages:
Streamlined process for quickly establishing an online presence
Experienced professionals who understand the nuances of crafting compelling stories that align with your brand's message and goals
SEO optimization advice specific to each piece of content
Maximized exposure when published
Ability to grow reach and engage customers without expensive fees or in-house creation burden
Insightful analytics tools to track the success rate of each piece post-publication
Pricing:
Grow – €1,500. This includes the production of 3, 500-word blog content, 3 localisation blog in French language, the designs or the visual materials for the blog, and a dedicated content adviser to help you learn the best content for your business.
Advance – €3,000. Includes 3 500-word blog content and 3 localisation blog in French and German, 1 whitepaper and the corresponding designs and blog visuals. A dedicated content advisor will also be available to assist you and provide content advice.
Expert – €4,500. Includes everything that is available in the Advanced package plus a content strategist that will help you out build a good content strategy for your business needs.
By leveraging Contentoo's services, businesses can grow their reach and engage with customers more effectively without having the burden of creating everything in-house or outsourcing it for expensive professional fees. Furthermore, they provide insightful analytics tools so users can track the success rate of each piece of content after publishing. This allows them to measure how well their strategies are working and make needed adjustments accordingly.
11. Rocketseed.com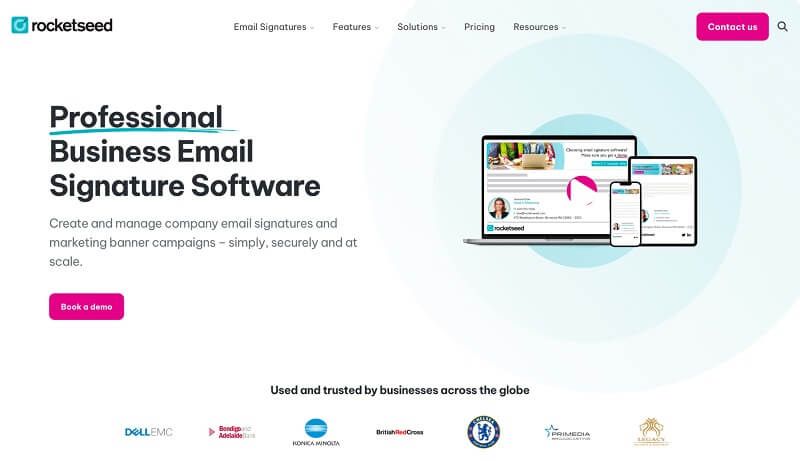 Rocketseed is an efficient email signature manager that enables businesses to quickly create and manage professional email signatures with their own logos, colors, designs, and other branding elements. It helps businesses to maintain a consistent look and feel across all of their emails and allows them to customize the signature based on user behavior or device type. Rocketseed also provides A/B testing capabilities so users can see which versions of their signature generate the best results.
Moreover, users can integrate social media links into their signatures to extend their reach in addition to tracking viewership statistics through the platform. This makes it easy to track the performance of emails sent out from the platform. Furthermore, Rocketseed also offers powerful features such as auto-signatures, multi-user management tools, dynamic content in signatures that adapts to different user behaviors or device types, as well as preview functionality for better accuracy and control.
Main Function/Advantages:
Create and manage professional email signatures with custom logos, colors, designs, and other branding elements.
Integrate social media links into your signature to extend reach.
Track viewership statistics on emails sent out from the platform.
Auto-signatures for faster setup times.
Multi-user management tools for easy control over who has access to the platform.
Dynamic content in signatures that adapts based on user behavior or device type.
A/B testing capabilities to see which versions of your signature generate the best results.
Preview functionality for better accuracy and control when creating signatures.
Easy to use and customizable interface for a consistent look across emails.
Save time when creating and managing email signatures.
Optimize the effectiveness of emails sent out from your platform.
Maximize reach potential with social media integration.
Pricing:
Rocketseed.com offers a range of pricing packages, starting from the Lite plan at $9/month up to the Enterprise plan at $99/month. The Lite plan is designed for small businesses and personal users and provides access to all the core features such as auto-signatures, dynamic content in signatures, preview options, and multi-user management tools.
The Professional plan is geared towards larger businesses and offers additional features such as custom branding elements, A/B testing capabilities, social media integration links in signatures, viewership tracking statistics, and enhanced support. This plan costs $59/month.
The Advanced plan increases the number of users able to access the platform from 5 to 25 and adds priority support for a fee of $79/month. Finally, the Enterprise plan is designed for large businesses with 50+ users and provides customized onboarding assistance along with unlimited user access for a monthly fee of $99.
Each package includes comprehensive customer support including an online help center and 24/7 email support. In addition, customers can also book consultancy sessions with experts to get personalized advice on how to make best use of Rocketseed's features tailored to their needs.
In conclusion, Rocketseed is an ideal solution for businesses looking to easily create and manage professional email signatures while maintaining a consistent look across all messages they send out. With its range of features and customizability options available, it helps businesses save time while optimizing the effectiveness of their emails and maximizing their reach potential.
Conclusion
Scaling your business and choosing the right marketing tools might appear challenging. Yet, you have the time and power to grow your company with these efficient platforms that can take you to your optimum. Remember: you must consider your business goals, the convenience you can get, your budget, and how long you need them upon exploring these SaaS tools. After all, these platforms are always available with a few clicks. You merely need to understand what you need and what platform can address that for you.